Holy Hike #3 17 April 2021
We will meet at 9am near the trailhead at Hacklebarney State Park, one of my favorite spots of all time. Due to Covid restrictions, the trails are all one-way. The state's website (below) shows the various trails. We will do the red loop and return with the yellow back to the parking area. Our hike will take approximately 1 1/2 hours; the park will not be crowded at that hour. The trails are largely clear but sometimes narrow and uneven with roots and small rocks.
If you would like to do a caravan, let me know. We would gather at CHS at about 8:30 to get there by 9. The park entrance can be a little hard to find if you've never been.
Bring masks, cameras, water, a snack....see you there! Dogs are ALWAYS welcome at Hacklebarney, too!
Julie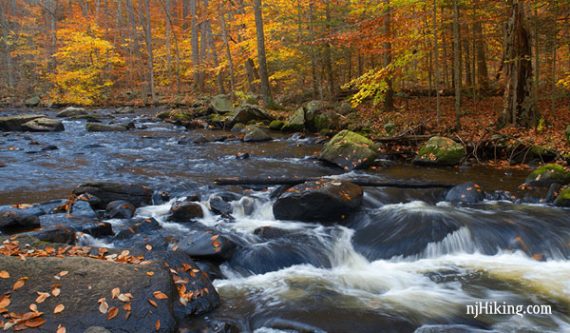 Here is a link to their website - on the left are driving directions:
https://www.state.nj.us/dep/parksandforests/parks/hackle.html
Here is a trail map:
file:///C:/Users/Julie%20Stine/OneDrive/Desktop/HacklebarneyTrailMap.pdf
Here are the brave souls who set out on our hike this morning.
The Wyglendowski family on the island in the stream.

Next month's hike will be posted soon...